Meet Dr. Carrie Voigts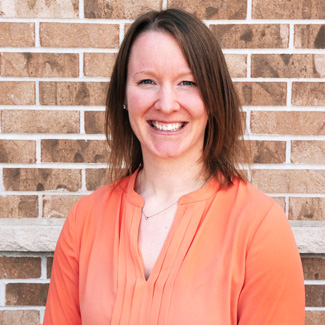 Growing up on a dairy farm in Wisconsin, Dr. Carrie would go with her parents when they got adjusted at the chiropractor's office. "When I was 10 or 11, I started doing some heavier lifting on the farm and ended up hurting my back." She then began to get chiropractic care, too. In fourth or fifth grade, she also began getting migraines and had problems with them for years. Neither over-the-counter nor prescription medications worked. After one adjustment, however, Dr. Carrie's migraine disappeared within an hour. Experiencing the remarkable effects of chiropractic made a big impression on her.
She began to learn more about science, anatomy and physiology. All that she discovered about the human body meshed with the philosophy of chiropractic. Dr. Carrie also liked that chiropractors helped people without medications or surgery. "By the time I was out of high school, I knew what I wanted to do."
Obtaining a Chiropractic Education
In 2011. Dr. Carrie earned her Doctor of Chiropractic at Palmer College of Chiropractic in Davenport. One of the highlights of her time there was doing a clinic abroad in Brazil. She enjoyed being able to adjust many people, helping a lot of them for the first time.
She learned many techniques at Palmer including Diversified, Activator Methods®, Gonstead and Thompson. Dr. Carrie also is certified in the Webster Technique and MC Tonal, a softer tissue based technique. "As chiropractors, we're nerve-based doctors; we help the nervous system which controls every system in the body. We want to make sure that the connection from the brain to the spinal cord to every single organ, cell, and tissue in the body is running smoothly and at 100%."
Caring for Babies and Kids
Certified by the International Chiropractic Pediatric Association (ICPA), Dr. Carrie particularly loves caring for babies and children as they are so receptive to chiropractic and enjoy it. "Most people think of chiropractic as a pain-based 'crack the back' type of care, but with kids and babies, it's more functionally based. Chiropractic allows their body to do what it's supposed to do without any interference."
A Success Story
One of Dr. Carrie's patients was a little boy who was a few months old. He suffered from major gastric reflux for at least a month and couldn't eat. "The mom was at her wit's end and didn't know what to do." After about six adjustments over a two-week period, there was a tremendous decrease in the boy's reflux. "Within a month of care, he was a different kid. To be able to affect their quality of life in such a major way in that short amount of time was great!"
Staying Active in Naperville
When she's not at the practice, Dr. Carrie does CrossFit, hikes, kayaks, and enjoys other outdoor activities. She also likes reading—everything from the Harry Potter series to books about World War II.
Experience the difference chiropractic can make in your life. Contact us today to book an appointment with Dr. Carrie!

Chiropractor Naperville | (630) 904-6700