Pregnancy Chiropractic Care in Naperville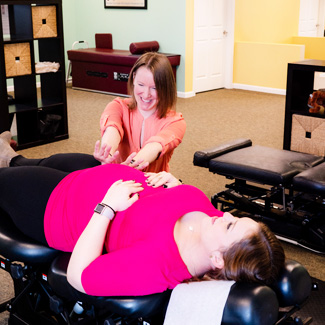 According to the International Chiropractic Pediatric Association (ICPA), chiropractic is safe during all stages of pregnancy. Expecting moms can get relief from a variety of common issues with chiropractic:
Constipation
Headaches
Heartburn
Low back pain
Sleep difficulties due to discomfort
Swelling of the extremities
The Webster Technique
This technique is a specific analysis and adjustment to the sacrum. It ensures that a mom's pelvis is in a much more balanced state which encourages optimal fetal position. The chief goal of Webster is to optimize the balance in the pelvis so that Mom and Baby can work in unison for a healthy delivery. Webster analysis also can also be used postpartum.
During those first three months postpartum, a lot of the relaxin hormone remains. We can take advantage of the ligament laxity to help restore balance to the pelvis as Mom is still recouping and recovering from birth.
Benefits for Baby
When a mom's body is in a more balanced position, her body functions better. Because Mom and Baby are sharing the same resources, there's a lot more room for her baby to move and engage in the proper position when it's the right time.
If you've been looking for a chiropractor to help care for you during pregnancy, contact Lifetime Health & Wellness in Naperville today to book an appointment!
CONTACT US »

Pregnancy Chiropractic Care Naperville | (630) 904-6700